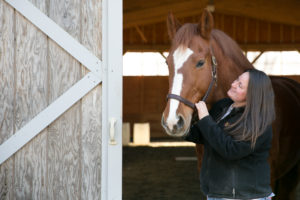 Niki Cogliano is an EAGALA certified Equine Specialist and Instructor with a degree in Equine Business Management. At Connecticut's Post University, she studied horse nutrition, behavior and emergency medical care in addition to the management and marketing of an equine-related entity. She served as Captain of the Post University equestrian team and riding instructor as well as Equestrian Camp director at a well-known Fairfield County riding academy. Her experiences enabled her to acquire considerable expertise in human-equine interactions as well as riding instruction.
Her many years with horses taught her how compassionate and articulate a horse can be. As an Equine Specialist, she is able to guide the client's interactions with the horse to maximize the benefits. Her insights and knowledge are an invaluable contribution to the collaboration with Dr. Wiseman and the sessions. Because of her broad range of experiences with riders and horse lovers of all ages, she can quickly assess which horse is the best fit for each client.
In addition to her role as Equine Specialist and Instructor, Niki also serves as the Barn Manager, insuring the horses remain in peak health.
Niki is certified by ARIA in Level II Hunt Seat and Hunt Seat on the Flat.
To contact Niki, Click Here