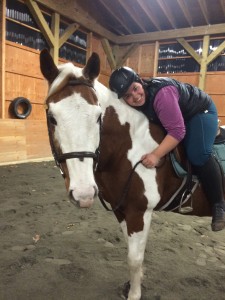 Safe. Private. Fun.
Red Skye is a small barn; there are no distractions from other horses and riders during lessons. We customize lessons for students ages 6-100, specializing in building a solid foundation for Beginner riders and furthering the education of Intermediate riders. Here at Red Skye we teach horsemanship skills- it's not just about riding. Our students learn many things about the horses such as how to groom, tack and un-tack the horse.
We schedule all private lessons by appointment six days a week. Students have a choice of a single lesson, five-lesson package, or ten-lesson package where your tenth lesson is FREE! The best part of our lesson packages, is that they do not expire for six months from when they are purchased. Use them each week, or skip a few weeks- we try to be as flexible as possible.
With a large 175 x 80 Outdoor arena and a spacious, well lit 100 x 60 Indoor arena, Red Skye offers lessons all year round. An outdoor seating area and an indoor viewing room keep spectators safe and keeps horses and riders from getting distracted during their ride.
                "We are so happy we found Red Skye- it truly is a wonderful place. We had my daughter's birthday here and also send her for riding lessons. I see my daughter absolutely beaming when she's with Niki and the horses. I would recommend Red Skye without hesitation!"
~ Tina R., Parent
Riding Boosts Self Esteem and Confidence
At Red Skye, we know the riding experience can be of great benefit for adults as well as young people. Males and females of all ages, particularly those who prefer individual rather than team sports, often develop an affinity for riding. Learning to ride can be an invaluable experience for preteens, especially girls. The challenges of adolescence often cause their self-esteem to plummet. Psychologists find the experience of being able to successfully handle a 1200 pound animal and earn their affection greatly increases self-esteem. Girls also gain confidence by learning a new skill and executing it well.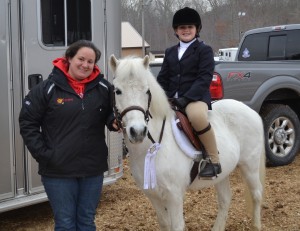 ---
Pony Rides
Is your child begging to come see the horses at the barn but not old enough to take lessons? Come visit with the animals and do a pony ride! Each child will ride for roughly 5 minutes, interacting with the pony and the instructor leading the pony. We like to stay connected with our young riders, no matter how small! Available by appointment only! Ages 3-6 years old.  $10 CASH
 
Red Skye's Cancellation Policy is as follows: Minimum of 24 hour notice for a make up lesson. If less than 24 hours, Red Skye reserves the right to deny a make up lesson. Not showing up for a lesson, with little or no prior notice, or arriving unprepared, is considered forfeiting the lesson and you will be charged in full for that lesson. There will be no make up for that lesson.
Red Skye reserves the right to cancel lessons for any reason deemed necessary. If lessons are cancelled do to weather related issues or scheduling conflicts at the farm, clients will not be charged for a missed lesson. Any questions, please feel free to call or email.
We look forward to seeing you!
Want to stay in touch? Make sure to sign up for our emails so you can stay in the loop!